Those of you who have had the questionable fortune of speaking to me for more than ten minutes are probably more than aware that I have an unnaturally intense love for: a) Doctor Who; and b) knitting. As such, I'm surprised it's taken me this long to discover that Lalla Ward, who played the lovely companion Romana II for some time during Tom Baker's tenure as the Doctor, went on to write two ridiculously adorable knitting books, which I may or may not have ordered from Amazon for like four dollars today. The first,
Fowl Knits
, features an array of bird-themed jumpers, some of which are also modelled by fellow Doctor Who actress Louise Jameson:
I wonder what Leela would have thought of that dodo number? It's a far cry from what she was wearing in the TARDIS, to be sure: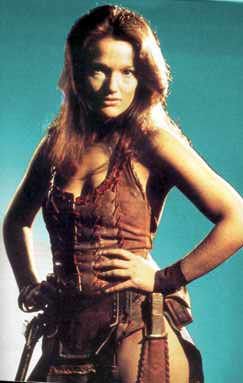 I haven't seen anything but the cover of the second book,
Beastly Knits
, but the sheer whimsical kitsch of the cat jumper has convinced me that it will be worth the $4 I spent for these books on Amazon:
I do, after all, enjoy cat jumpers. Remember that time I bought this from
prettysnake
?
And it's basically the sexiest thing I own.